This is not your Grandma's macaroni and cheese.
IT'S BETTER!
The creamy deliciousness of Wisconsin's Finest Macaroni and Cheese will have your whole family asking for "more mac and cheese please!"
What people are saying
Reviews

"White Cheddar Shells – You can actually taste the white cheddar. Perfect side dish with family dinner!"
- Courtney, Massachusetts

"I ate this entire box of Mac &cheese in one sitting... but that's not unusual for me. It was so good, inexpensive, and it made me feel good knowing it was organic."
- Joseph, Rhode Island
See All Reviews
Our family values
How we give back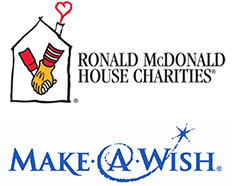 Our family values are to be kind, humble, honest, and to give back to the ones in need. We have a soft spot in our hearts for the children in America. We are excited to partner with the selfless organizations of Ronald McDonald House and Make-A-Wish Foundation. In doing so, we are hoping to help alleviate some of the pain and suffering even if it is for one day. Their illness was not their wish but fulfilling their wish is. There are millions of children in need across America and if there is anything we can do to put a sparkle in their tender hearts we will do it. Our contributions are volunteering at local chapters, community outreach and a portion of our proceeds go back to helping the children and families.
Learn more about
Wisconsin's Finest
Wisconsin's Finest can be found anywhere from your local grocery store's dairy department to the shredded cheese on your salad at your favorite restaurant.
Visit Our Corporate Site